Expedition Egypt narrates the story of two centuries of fascinating archaeological discoveries in the Land of the Pharaohs and the development of the Egyptian collection of the museum. The exhibition brings together more than two hundred objects from its eminent Egyptian collection. Highlights include the sumptuously decorated coffins from the priestly cache of Deir el-Bahari, and the beautifully illustrated Book of the Dead of the dignitary Neferrenpet.
In addition, a wide variety of stunning pieces from the collection will be shown to the public for the very first time. Objects like funerary stelae, canopic vases for the entrails of the deceased, and shabti figurines meant to accompany the dead in the afterlife, will introduce the visitors to the Egyptian world of the gods and eternal life. The exhibition will also be richly provided with unique historical photographic material.
In the nineteenth century, Belgian diplomatic and industrial circles showed a lively interest in the history of Egypt, which occupied an important place in international politics and the global economy. The first Egyptian artifacts to join the museum were mainly royal and private donations. In the early decades of the twentieth century the ambitious and flamboyant Egyptologist Jean Capart played an invaluable role in the enlargement of the collection and the development of scientific research. Thanks to Capart's numerous initiatives, at a certain moment Brussels was considered the world capital of Egyptology. After almost two hundred years of profound interest in ancient Egypt, the Art & History Museum manages a superbly rich Egyptian collection that ranks among the top of European museums.
Buy your ticket
Sara Sallam
This journey through time will be punctuated by the artistic interventions of Sara Sallam (°1991, Cairo). The artist explores contemporary Egyptian cultural identity and questions the history and meaning of Egyptology. Nourished by childhood memories and archaeological and museum sources , Sara Sallam's works offer a new look on the heritage of ancient Egypt.
Photo: Sara Sallam, Horus, digital photo collage from the Playing in Fields of Reeds series, Egypt, 2014-21. Private Collection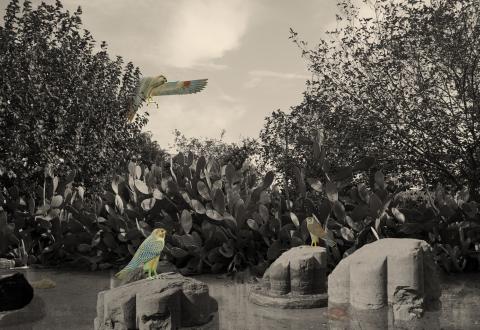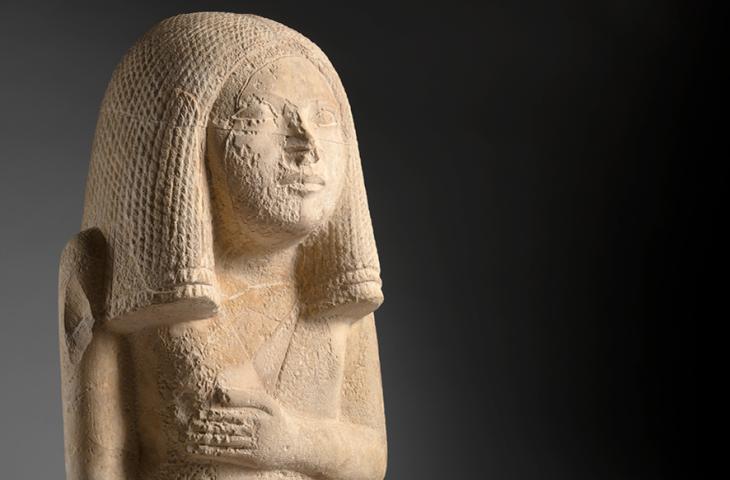 Female statue 'The Lady of Brussels', 3rd dynasty, Egypt, limestone
Jean Capart in the desert between the pyramids of Giza and Abusir, 1907
Horus, Sara Sallam, digital photo collage from the Playing in Fields of Reeds series, Egypt, 2014-21. Private Collection
Fragment of a coffin, New Kingdom
Inner coffin of the lady Tauseretempernesu, 3d Intermediate Period
Necklace, Middle Kingdom
Scarab of Amenhotep II, 18th dynasty
Sacred falcon coffin, bronze
ACTIVITIES
- Family trail & Expedition Egypte : the game
Family trail for aspiring Egyptologists (and their parents) from 8 years old.
Included in an exhibition ticket
Voir l'agenda complet
Entrance fees
€ 17: adults (19-64 years)
€ 12:65 +, card Fed+, Attractions et Tourisme, Riebedebie
€ 6: Students with valid student card; People with disabilities and escort; Job seekers and integration income beneficiaries; Belgian school teachers; guides of the City of Brussels
Free: 0-18 years; visitor on presentation of a museumPASSmusées; journalists on presentation of a valid press pass
Opening hours
Tu - Fr : 9.30 am - 5 pm
Sa - Su : 10 am - 5 pm
Closed on Mondays