The Plaster-cast Workshop

The Plaster Cast Workshop was established in the nineteenth century during the reign of King Leopold II. It houses a collection of more than 4000 molds of works of art dating from prehistoric times to the eighteenth century.
In reproducing these works of art, the workshop's specialized craftsmen employ traditional techniques in both the casting and the patination.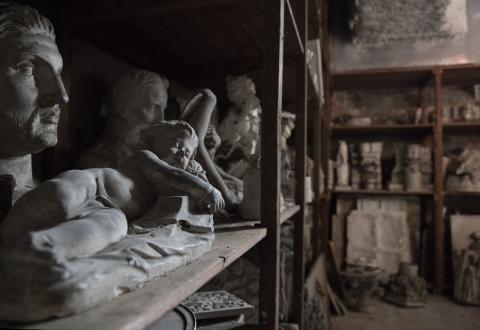 Have a look in the workshop ?
There is open access to the Plaster Cast Workshop for individual visitors each Thursday from 1.30 p.m. to 4 p.m. (not on Thursday 29 December 2022)
Discover the workshop with a guide ?
The museum organizes guided tours (with demonstration) for groups in the Plaster Cast Workshop on Tuesday and Thursday, booking required.
Contact us through the webform, or give us a call at + 32 (0)2 741 73 02.
Why not join one of our Wednesday tours? Click on a date to book your ticket: 16.11.22 / 18.01 / 15.03 / or 17.05.23 in French and 21.12.22 / 15.02 / 19.04 / or 21.06.23 in Dutch. From 2 p.m. to 3:30 p.m.
There are no stairs entering the Plaster Cast Workshop and the space is completely wheelchair accessible.
The Plaster Cast Workshop is closed on weekends, public holidays, 2 and 15 November and the week between Christmas and New Year.
Purchasing a plaster cast?
By offering casts for sale, the workshop makes sculptural art accessible for schools, academies, scientific and commercial institutions or amateurs in Belgium and abroad. The larger examples, such as busts, full-length statues, reliefs, etc. have to be ordered, but there is always a little stock of smaller examples. An order can be placed on the spot, by phone or by e-mail.
By clicking on the link you can have a look in the catalogue by now.
Some of the casts are on sale in the Museum shop.
Take contact with us?
E: moulages@kmkg-mrah.be
T: (0)2 741 72 94 - (0)2 741 72 93 (Currently the Plaster Cast Workshop cannot be reached by telephone. But the workshop can always be contacted by e-mail. We ask for your understanding.)