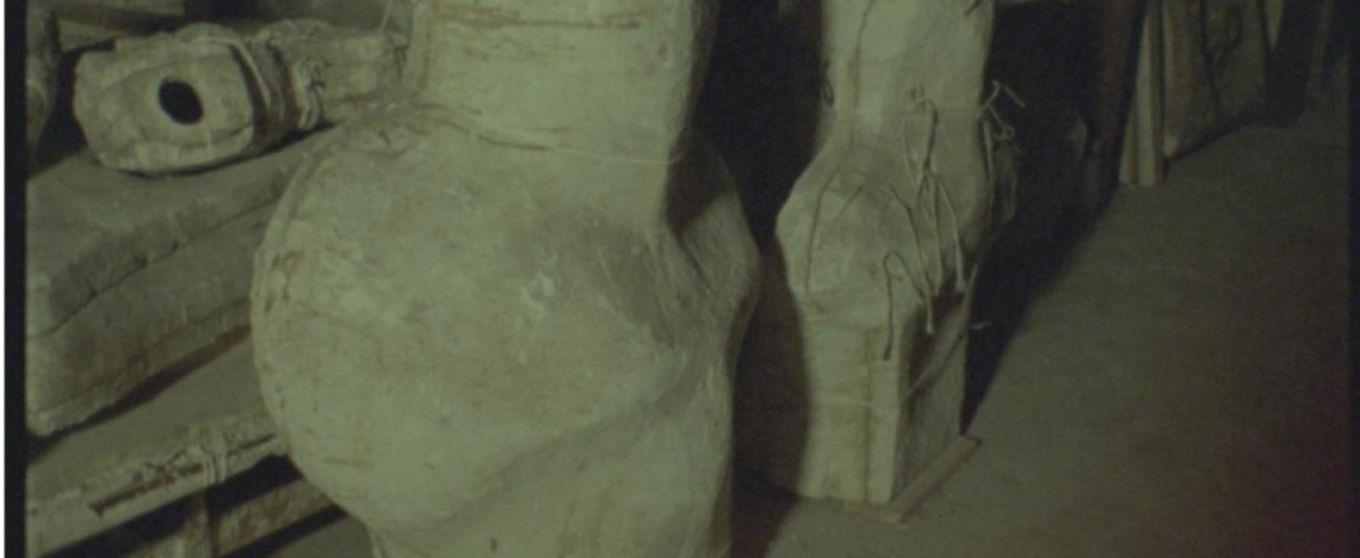 Artist in residence : Double shelled egg
14 & 15 December 2023 
About the Project : Double Shelled Egg
"At the depot of Atelier de Moulage, some 5000 molds are stored in wooden racks. This depot is a skeleton, a physical body, offering structure to art history. The molds within the depot are like a second space within this physical body. The molds are seductive, suggestive and trigger my imagination on the parts contained within." - Thomas Bakker
On September 18th, two camera crews, consisting of Eva Claus, Erwin van 't Hart, and Els van Riel, and directed by Thomas Bakker, shot a series of site-specific 16mm films in the depot of the plaster cast workshop. These films will eventually become a part of sculptures and spatial installations. In some of his films, the depot acts as a mold, and the corridor system serves as a casting channel for his time-based 16mm films. Thomas Bakker will develop, select and edit these films during his residency at CAB, which runs from October 24, 2023, to January 15, 2024.
About CAB 
Fondation CAB's artist-in-residence program welcomes both national and international emerging and established artists for dedicated periods of up to two months focused on reflection, work and research rather than production or presentation. We invite artists from the mission of Fondation CAB, who thereby interpret and question the traditions of minimalism and conceptual art in a contemporary way.
Thomas Bakker will show his new works at atelier de moulages on 14&15.12 2023 and at CAB on 16.12 2023 and on 13.01 2024
About the artist 
Thomas Bakker earned his Bachelor's degree from AKV|St.Joost in Breda and his MFA in 2002 from the Sandberg Institute, Amsterdam, where he majored in Sculpture and New Media. Bakker's work has been shown at Post CS/Stedelijk Museum Amsterdam, Van Abbemuseum Eindhoven, Middelheimmuseum Antwerp (Belgium), Stedelijk Museum Schiedam, Centraal Museum Utrecht, Neue Galerie München (Germany), Glasgow Sculpture Studios, (United Kingdom), LOOP Video Art, Barcelona (Spain) and at several art initiatives and residencies in and outside of the Netherlands.
In the words of Thomas Bakker 
"Strongly influenced by cinema and architecture my site-specific installations show constant research into narrative and space. Within these installations the projected image has an important role. It enables me to juxtapose, contradict and combine film, the ephemeral with sculpture, the physical, the absolute. I've always had this spatial desire. To build a choreography with objects combined with recordings of video and 16 mm. film. Within this approach the exhibition space plays a leading role. Through recording its architecture, I can (re)animate time and build a bridge between the moment of making and the moment of viewing the work. My cinematic installations and lens-based sculptures are always exhibited in natural light conditions so that the physical and the ephemeral remains in a precise balance. I prefer the spectator to lose themselves in a place, not necessarily departing from the cinematographic experience. In the movie theater you're supposed to forget where you are. I have this ambiguous desire… on the one hand I like to transport the viewer but on the other hand I don't want them to completely flee the scene."
Excerpt from interview for publication Concepts Around Works, 2017 by Michiel Huijben
Find out more about the artist