Art of Eastern Christianity
This collection includes a number of Byzantine items, as well as examples of Byzantine art from Greece, Eastern Europe and the Near East, Russia and Ethiopia. Best known internationally is the collection of Coptic textiles (this collection is currently not on display).
Ivory rosette casket
Among the Byzantine pieces is an ivory rosette casket from the twelfth century, a showpiece that is exhibited in the spectacular gallery of Romanesque and Mosan Art.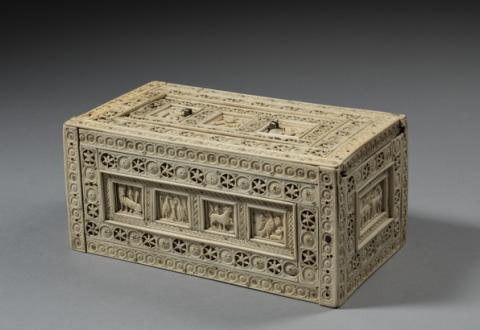 Icons
Currently on show from the Byzantine period are the finest of Greek and Russian icons. These can be seen in the area that links the reception hall with the 'Great Narthex'. From the Greek world, there is the Enthroned Pantocrator, the Synaxis of the Archangels, the Crucifixion and the St. Meletios, all dating from the seventeenth or the eighteenth century. An icon of Christ the King and Great High Priest is depicted on a rare, 18th-century cathedra or bishop's seat in worked and gilded wood.