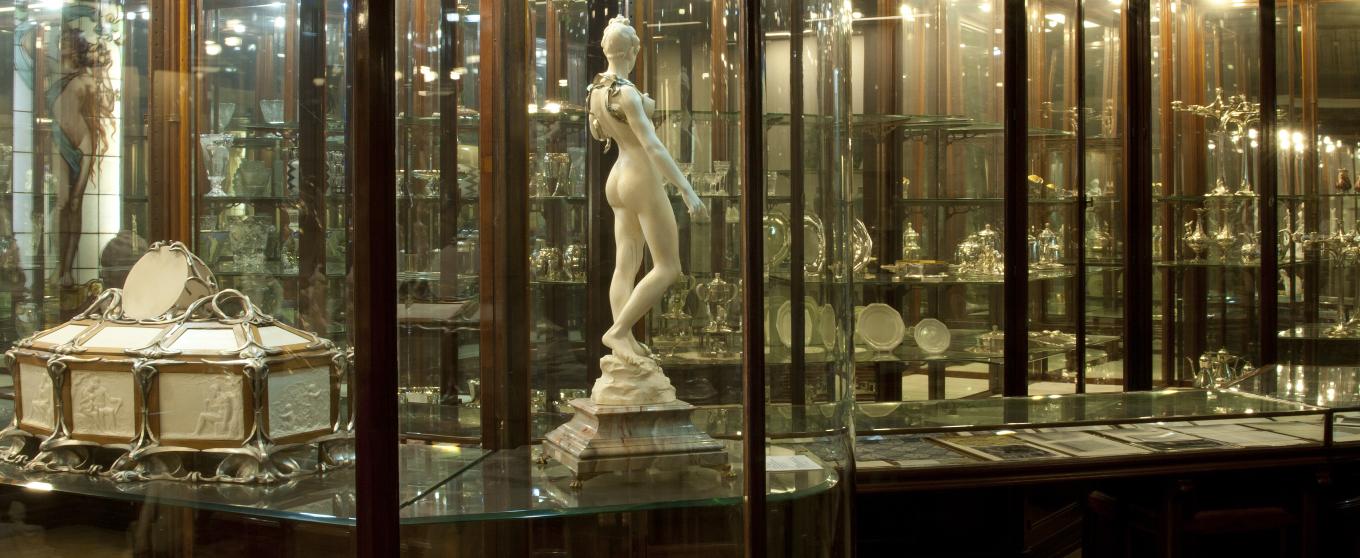 guided tour Horta-Wolfers (Shop 'Wolfers Frères')
Victor Horta regularly worked with goldsmith Philippe Wolfers and designed for him a shop with workshop in the shadow of St Michael and St Gudula Cathedral in the rue Arenberg, which used to be known for its up-market shops. In 1977, the shop interior made of mahogany from Honduras was donated by the Wolfers family to the Royal Museums of Art and History. From 2017, after extensive research and renovations, it can once again be admired in its full glory in what is now the Horta-Wolfers gallery.
Today we invite you to step into the carefully reconstructed shop and experience the highlight of Belgian art. Admire renowned jewellery pieces designed and executed by master jeweller Philippe Wolfers as well as those of other art nouveau and art deco artists. Marvel at a collection that bears witness to a period in time where new technologies, industry and entrepreneurship where on the rise, as well as a time when businesses took the first steps towards globalisation against the backdrop of political and social renewal and Belgium's colonial past.
On Sundays
28.05 / 30.07 / 24.09 / 26.11
From 11:00 to 12:30
€ 15 / 10 (-19 years & Museumpass)
Meeting point – Museum A&H
More information? Ask your question via  public@kmkg-mrah.be